Fixed Volume Bottle Sampling Systems
Other
Models:  FVBSS

Warranty: 1 Year

Guarantees repeatable sample volume
Zero dead volume
Replaceable process and vent needles
Suitable for high process pressures
SENSOR needle purge standard
Eliminates over filling of sample container
Request a Quote
---
The SENSOR Fixed Volume Bottle Sampling System (FVBSS) provides a repeatable fixed volume of sample during each sampling process without stopping flow of the process fast loop.  As a safety precaution, it helps prevent overfilling of bottle. It utilizes the same sample valve as the Basic Bottle Sampling System (BBSS), with the addition of a needle valve to control the flow of the fixed volume into the sample bottle.  No external tubing is required for the fixed volume chamber.  The fixed volume chamber will be sized to meet the exact requirements of your sampling application. FVBSS is recommended when process pressure exceeds 150 psig or when a repeatable, defined volume of sample is desired.  SENSOR Needle Purge (SNP) is included in the fixed volume design.
 
Closed loop design with captured vent ensures zero emission
Eliminate the possibility of overfilling a sample bottle
Automatically purges process needle of any residual process thru SENSOR Needle Purge (SNP) which ensures residual elimination between samples
Optional SENSOR Sampling CONCENTRIC single needle design is available
Positive indication of free-flowing system; no plugged sample or vent needles
Isolates sample bottle from process pressure
316L wetted parts standard
Viton/Teflon seals standard
Fixed volume sizes: 2oz. – 32oz. (60mL – 1000mL) other sizes availale
Operation & Installation Manual included
Be sure and look at the other sampling system models that are available like the RAM Sampling Systems.
Request a Quote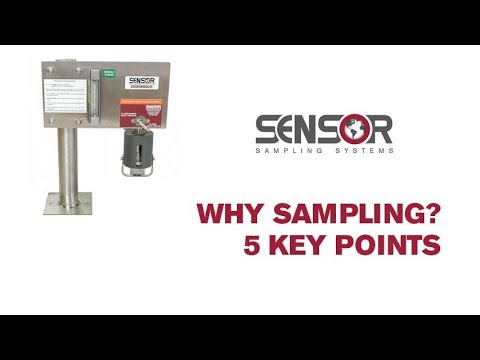 Click to play: 5 Key Points - Why Sampling